Key Verses
Habakkuk 1:1-5; Exodus 12:12-14
Despite what's going on with the coronavirus pandemic, God is at work to take care of us.
Support the Mission
Your love offering allows us to continue our devine mission to spread the Gospel far and wide.  We are Cross County's second oldest church.  Support the mission.  Give now!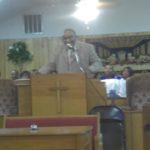 Cortez Stegall
Cortez Stegall is the Senior Pastor at New St. James M. B. Church.